Gary Revel Biographical Summary
Updated: September 20, 2023
Killeen, Texas USA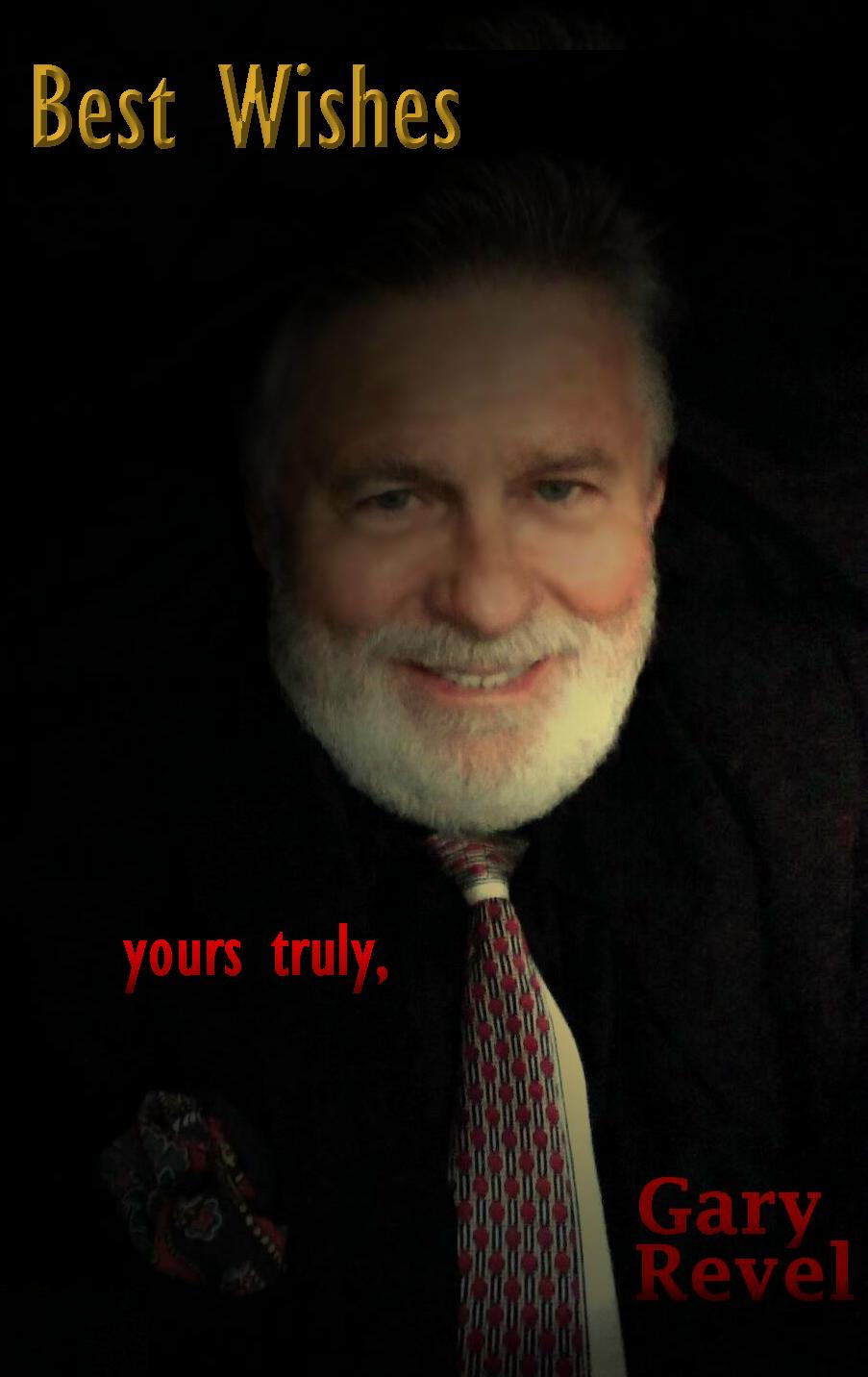 Me with beard, December, 2017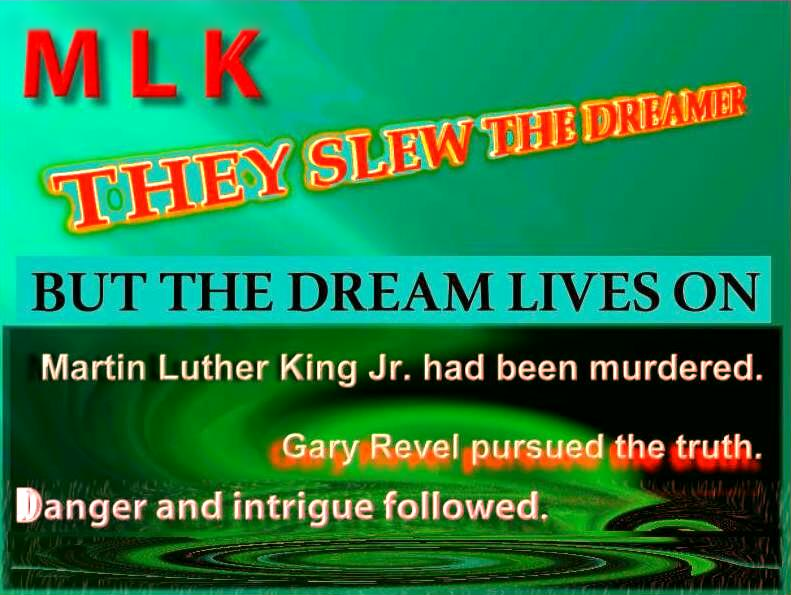 Movie Update
MLK, the the screenplay by Frank Burmaster and Gary Revel based on the story of my investigation of the assassination of Martin Luther King Jr. is being developed with Jeff Olm, who is scheduled to produce and direct the movie.

Logline: Watching the destruction of his dreams became a living nightmare for Gary Revel. Still he survived and this is his story.

Marketing Note: This movie relates to the hopes, dreams and challenges of all people here in this country and around the world.
---
History - Revel de Tetenia, in the Danelaw Documents of London in the year 1154. Sir Richard Revell or Rivell died in 1222, and was the sheriff of Devonshire and Cornwall during the reign of King Richard (the Lionheart) 1st, 1189-1199. Also Revels, Revil, Reavell, etc. Many in Yorkshire from the late 14th century with one example on July 12th 1590, Margaret Revill who married Robert Cawthorne at Rotherham. The coat of arms has the blazon of an ermine shield, charged with a red chevron between three golden mullets, and a border engrailed, sable. The first recorded spelling of Revel is Robert Revel in 1177, in the Pipe Rolls of Essex, during the reign of King Henry IInd, 1154-1189.



Advanced Historical Analysis by Crigenetics - Cellular Research Institute
Analysis goes back 76 generations to a founding ancestor from Yoruba, Nigeria.
The next mixing link is 71 generations back and is from Peru.
The next is 61 generations back, African Caribbean.
The mix then jumps to 20 generations back and N.W. European including Finland.
The next 19 are primatily Northern and Nort West European with some Iberian, Columbian, Mexican, Sri Lankan Tamil, and Peruvian in the mix.
European 89.9 %
Northern European 25.1%
British Isles 21.8%
N.W. European 21.2%
Iberian 12.7%
Toscani Italian
9.1%
This Genotype is represented throughout people in closely neighboring geographical regions such as: Finland Sweden Norway Russia Denmark Estonia Lithuania Latvia Belarus Ukraine Poland Kaliningrad
South Asian 4.1%
Punjabi 1
.6% Gujarati Indian 0.9%
Sri Lankan Tamil 0.9%
Bengali 0.7%
Regions include India, Bengal, Pakistan, Sri Lanka
Admixed American 3.3%
Peruvian 1.1%
Mexican 1%
Colombian 0.8%
Puerto Rican 0.4%
Regions include Peru, Mexico, Colombia, Puerto Rico
East Asian 1.4%
Chinese Dai 0.5%
Japanese 0.3%
Southern Han Chinese 0.2%
Northern Han Chinese 0.2%
Kinh Vietnamese 0
Regions include China, Japan, Vietnam
African 1.1 %
Mende in Sierra Leone 0.4%
Yoruba in Nigeria 0.4%
Esan in Nigeria 0.1%
African American 0.1%
African Caribbean 0.1%
Regions include Sierra Leone, Nigeria, United States-Mississippi, African Caribbean-Chain of Islands from Montesserat, on the North to Trinidad/Tobag on the South, includes St. Vincent, Barbados, St. Lucia, Dominica.

This is the ancestry - Revell line from which Gary Neal Revel came.
John Joseph Revell Irish-Scotch or Scotch- Irish, English and Dutch.
If anyone has any other information or corrections please
email Gary at gary@garyrevel.com with your take on it all.)
---
John Joseph Revell Line
John Joseph Revell was born abt. 1675. He owned land at Leecock Swamp, Isle of Wight Co in VA.
He married Anne UNKNOWN
Born: 1670
Died: 1720
Wife-Ann

Son: Randal Revell
Born: 1698
Somerset, Maryland, USA
Died: 23 July 1739
Isle of Wight, Virginia, USA

Wife - Katharine Holladay
Born: 1695
Died: 23 July 1739
Virginia, USA

Son: John Joseph Revell
Born: 1722
Isle of Wight, Virginia, USA
Died: 1 Apr 1789
Wayne Co, North Carolina, USA

Wife - Elizabeth Ham
Born: 1725
Wayne Co, , North Carolina, USA
Died: 1784
Dobbs, , North Carolina, USA

Son: Matthew Revel - 1747-1803
Wife/Anna Gatling - 1780-?

Son: John Marion Revel - 1770- 1827
Wife/Mary Harris - 1770-1835

Son: Benjamin Revell - 1807-1884
Wife/Martha A. Revell - 1822-1900

Son: Stephen Beauregard Revel - 1862-1934
Wife/Donia Sussanna Moore - 1878 - 1951


Donia Sussanna Moore - Andrew Line

Donia's dad: Samuel W Moore
1836 - 1917
Donie's mom: Mary J Andrew
1844 - 1933

Mary's dad: Henry T Andrew
1818 - 1856
Mary's mom: Sarah Ditto
1825 - 1906

Henry's dad: Richard Andrew
1789 - 1840
Henry's mom: Sarah Ann Turner
1793 - 1852

Richard's dad: James Andrew
1754 - 1819
Richard's mom: Mary Polly Bell
1775 - 1830

James' dad: Richard Andrew
1722 - 1815
James' mom: Sarah
1722 - 1792

Richard's dad: Richard Andrew
1700 - 1776
Richard's mom: Mary Bromwell
1700 - 1744

Richard's dad: John Andrew
1660 - 1695
Richard's mom; Mary Peck
1662

My dad's name is Leamon Curtis Revel, his dad was Stephen Beauregard Revel and mom was Donia Susanna Moore-Revel. They are buried in the Consolation Cemetery, Coffee County, Alabama.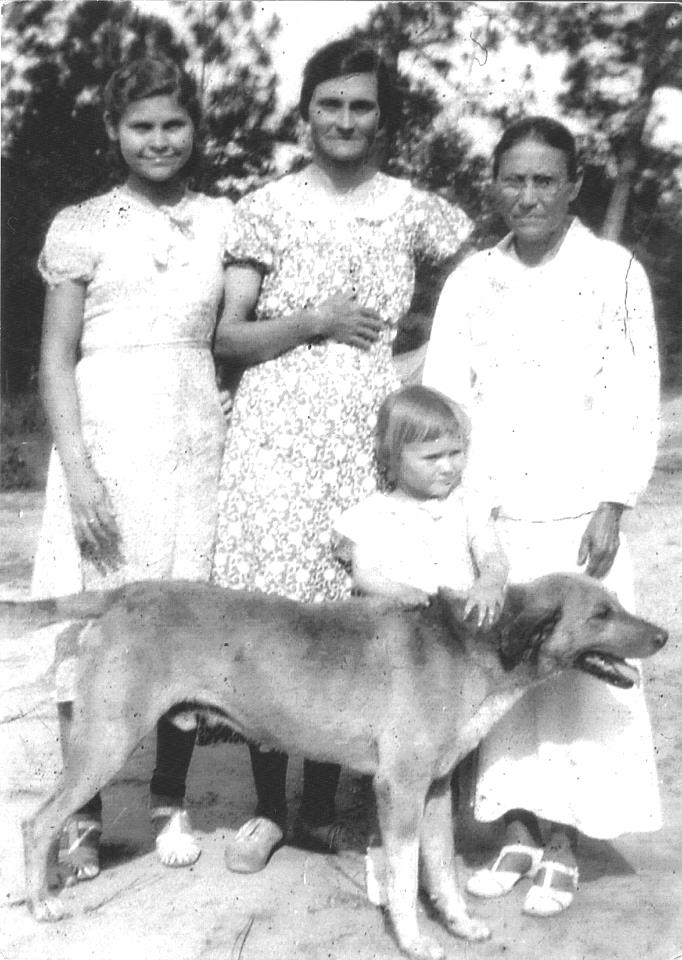 From left, my mother, Martha Marie Mitchell,
her sister, Gussie Mitchell
and her mother, Tamara Bulah Laney Caraway-Mitchell.
the child below is Doris, Gussie's daughter.
Tama married Carey Cornelius Mitchell (called CC by many) and settled in Alabama.
If anyone knows more I'm anxious to hear from you. Email be gary@garyrevel.com


Now - My Life
June 29, 1949

Born to Martha Marie Mitchell (Daughter of Father, Carey Conrnelius Mitchell aka 'CC' and Mother, Tama Bulah Laney Caraway and Leamon Curtis Revel (Son of Stephen Beaugard Revel and Donia S. (Moore) Revel) in Florala, Alabama, United States of America. On this date Gary had a sister, Vivian Laney Revel and 2 brothers, Benny Curtis Revels, Kenneth Leamon Revel. Later Cecil Ray Fillingame Jr. would become his younger brother from the marriage of his mother with Cecil Ray Fillingame. (Note: February 24th, 2019, I am reading a letter my mother wrote and sent to me years ago. She writes, "Dearest son, Gary. Here is the information you asked me for. My daddy's daddy's name was Alfred Monroe Mitchell, daddy's mother was Suzanne. I don't remember her maiden name. His brothers were, George Washington Mitchell, his children were James, Oscar, Fred, Pearl, Wilson, Louise, and Ethalene. Jim was the brother of George Washington Mitchell. I don't know if his real name was James and he was called Jim. I only remember Jim. Jim had a son named Bernice, last I heard he lived in Texas. A sister to my Grandfather Alfred or his sons, George or Jim was Laura Calaway and she married a George as well and they had a daughter, Lola who married Walter Howell's son Herbert. My mother's daddy, my granddaddy, was William Henry Caraway and her mother, my grandmother, was Harriet Caraway, maiden name Mitchell. My mother's name was Tamra or Tamara, Bulah Laney Caraway then became Mitchell of course. Her sisters, my aunts, were, Sarah and Suzanne, (Note from me as I read the letter. it looks like one of these was married to Ira McCloud). Her brother, my uncle, was Will Caraway whose wife was Rosie Bell. They had a son and a daughter, Wilson was the son and the daughter was also named Rosie. My sister's names are, Gussie Lee Lizzie Luanna Mitchell-Pridgen; her husband was Morris McLaney Pridgen (their children were Maxwell Samuel Pridgen and Martha Doris Pridgen-Maurine. Doris was born December 24, 1934 and died April 19, 1994), Minnie Melissa Mitchell-Simmons; her husband was Warsaw Simmons (their children were: daughters, Bulah Vancil and Laney Faye; sons, Carvin and Franklyn Rayvon), Lillie Viola Mitchell-Pridgen (she and Gussie married relatives, possibly brothers), and Myrtie Mildred Mitchell-Hadon. Mildred was my nest to older sister and I was the youngest of all my siblings. My brother's names were, Nathan, David, Carey, and Arthur Franklin. All Mitchells of course." Okay, that's all the new information I got for now. This may change some of the ancestry information I have here. I will go through it later and see how it all fits together. If you know of anything that could put more of this puzzle together please let me know ... gary@garyrevel.com.)

1959

Recieved Jesus Christ as his Personal Savior and Lord in a small Assembly Of God church in Safety Harbor, Florida, USA.

1965

Formed Rock & Roll band, The Shades, with Sandy Courtney, Niel Steverson and Paul Wilcox in Bonifay, Florida. I am the one on the left in the silver sport coat. Wearing that in the Conservative South back then was either courageous or stupid, not sure which.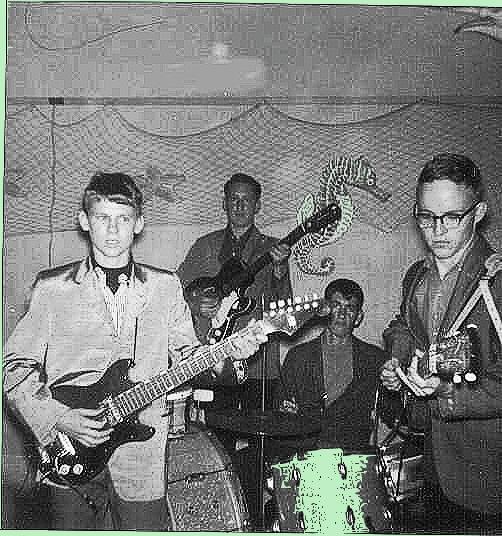 1967

Graduated Holmes County High School, Bonifay, Florida, USA and joined the United States Navy

1967-1969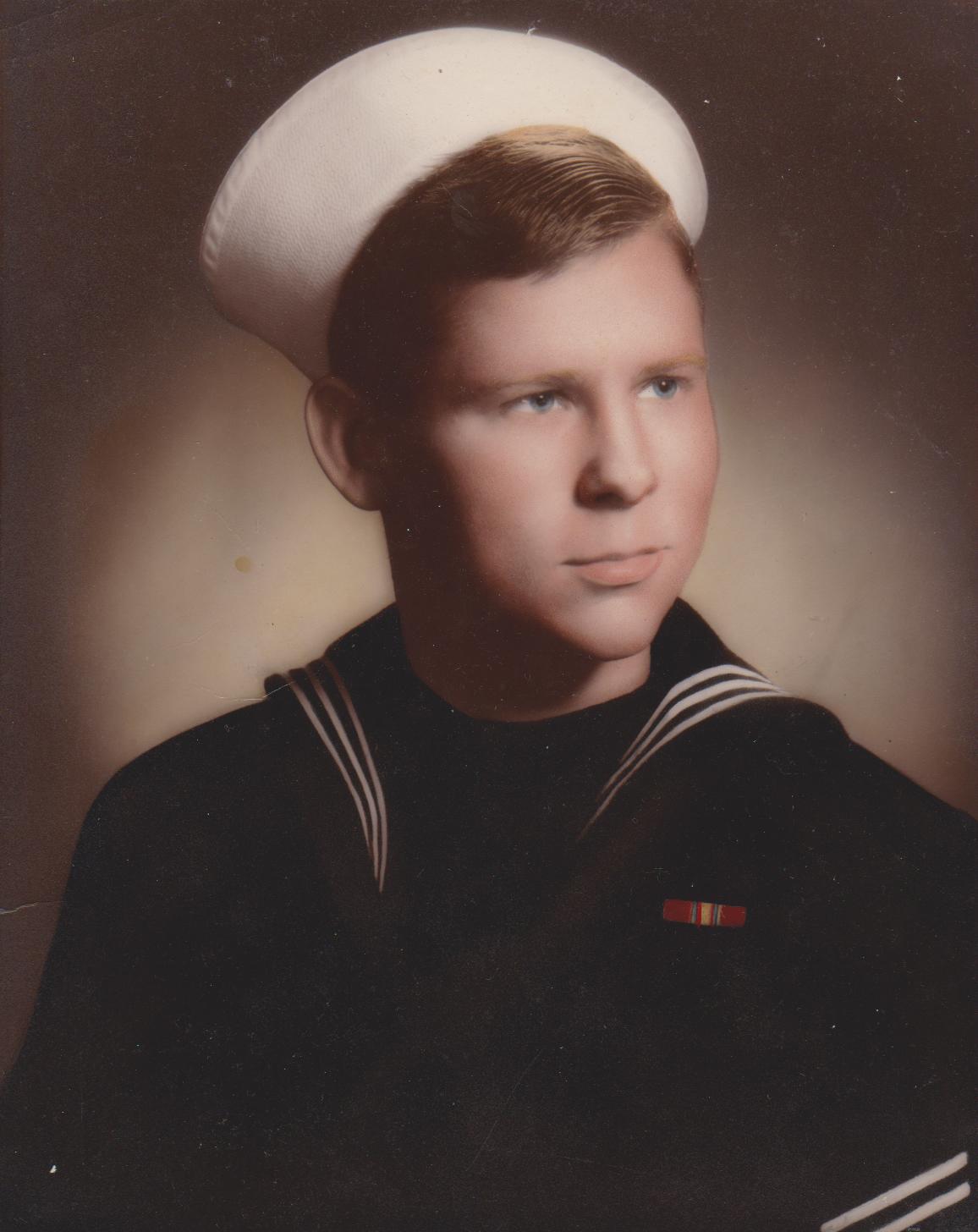 Served in U.S. Navy, Primary duty station/Fleet Anti-Submarine Warfare School and Command Training Pacific Fleet Headquarters. Training included Sonar, Electronics, Nuclear Physics, Naval Intelligence and other specialized fields. Investigated and helped bring to justice some who dealt in illegal drugs and espionage while participating in U.S involvement in the Vietnam War. Much of the information about my covert work in counterespionage and drug interdiction must be kept secret as it is classified by the United States Government.

September, 1969

Honorably discharged from United States Navy, moved from San Diego, California to Hollywood, California, USA. Found himself thriving in the Hippy Scene on Sunset Strip in Hollywood. He soon met people in the Entertainment Business, including David Cavanaugh, an executive at Capitol Records. His first recording session was scheduled within weeks. It was at Capitol Records, near the corner of Hollywood Boulevard and Vine Street. Gary was writing and recording different styles of music from country to rock. He then began working with Jud Phillips (Son of Jud Phillips and Nephew of Sam Phillips. The brothers had launched the careers of Elvis Presley, Johnny Cash, Jerry Lee Lewis and many others and founded Sun Records). Jud served as his producer and manager for several years working together in Hollywood and Memphis, Tennessee.

1970

Gary helped develop a production and distribution deal for the Titus Moody's film, THE LAST OF THE AMERICAN HOBOS/THE LAST OF THE AMERICAN HOBOES aka HOBOS. This included the production of the sound-track album. Gary worked with Byron Spears, Jud Phillips (Nephew to Sam Phillips - the father of Rock and Roll - owner of Sun Records; first record label for Elvis Presley, Johnny Cash, Jerry Lee Lewis and others.), Judy Russell and others to eventually see the film finished and shown in theaters across the country. Note: To read the New York Times Review-CLICK HERE. During this time the single record, Richie Alan (written by Gary and Rick Strausser) and B side-What More Do They Want (written by Gary and Jud Phillips) were released by BJB Records, another label Gary was on, around this time. He Co-wrote songs with Alan Stoddard and others as well.

1971-72

More of Hollywood and Los Angeles, then New York City. I lived for a while in Jimmy Durante's house on Long Island and would make nightly visits into New York City. Once in a night club in Harlem I called a girl friend in Hollywood who had grown up in NYC. I told her I was in New York, she asked where and when I said Harlem she said, "You better get out of there, you have no idea how dangerous that place can be." Of course she didn't know a lot about my life experiences and military work so had no idea. I just agreed with her and told her I would get back down to Manhattan. Then one night Jud Phillis called and invited me to come live with him and his girl friend, Robin, in Memphis. I took him up on that and spent several months in Memphis before going back to Florida.
During this time I performed in some bars and lounges for awhile as I continued writing as well as taking some courses in computer programming. I recorded the songs Deep Mountain Lake, Just as Long as We're Together and Boogie Woogie in Fort Lauderdale Florida and they were published by Acuff-Rose music. I also co-wrote the song, Mother Nature (an environmental issue song), with my brother Ray Fillingame that is also published by Acuff-Rose-Milene (Now Sony/ATV Milene) and released it as a single record later.

January 23, 1973

Married Linda Marie Willis


Gary and Linda have six children:
Gary Neal Revel Jr.; Born in Nashville, Tennessee, 1973.
Curtise Leamon Revel II; Born in Nashville, Tennessee, 1974.
Curtise has a daughter, 'Cathrynn' and a son, 'Sonny'.
Mary Noel Revel; Born in Nashville, Tennessee, 1976.
Mary Revel is married to Michael Lezynski
They have three daughters, Kaila, Elisabeth and Hannah
Rebecca Ann Revel; Born in Hollywood, California, 1980.
She is married to William Buglehall and they have 2 sons and a daughter, Jacob, Nathan and Olivia.
Elisabeth Marie Revel; Born in Los Angeles, California, 1982. Elisabeth has a daughter, Ariel Marie Revel-Marella and a son, Jayden.
Sonny Americas Revel; Born in Los Angeles, California, 1985.

1973

Shortly after Gary and Linda were married they moved to Elba Alabama where Gary worked as a Farmers Buyer Representative, a Bartender at the Heart of Dothan Motel's lounge and then a Clothing Manufacturer's Representative for Casey's Jeans. "I was a Fashion Jeans Representative once upon a time when I was in the early 20s. I helped women get the right look in their jeans.

1974

They then moved to Nashville Tennessee where Gary Jr. was born and then moved back to Florida where Gary became an insurance agent. Several months later Gary, Linda and Gary Jr. moved back to Nashville where Gary signed a publishing agreement with Acuff-Rose Music Company. Gary began writing and recording music for Acuff-Rose and some independent producers and labels. At the time Acuff-Rose was the number one Country Music publisher in the world. Curtise Leamon Revel II was born. Gary became a business associate of Attorney Jack Kershaw. The developed some business enterprises together and Gary would occasionally do investigative work for Jack.

1975

Wrote LITTLE DID WE KNOW (Ballad of Stringbean- David Akeman- and his wife Estelle) with Mary Noel-Kershaw, wife of Sculptor-Artist-Attorney Jack Kershaw. Helped Jack Kershaw publish the book, The Stringbean Murders on his Rebel book publishing imprint, about the murder of Stringbean (David Akeman) and his wife Estelle. Released a single record of LITTLE DID WE KNOW and PEANUT MAN (Written by Gary and his wife Linda) on the Rebel Records label. The songs were published by Acuff-Rose ASCAP arm Milene and co-produced by John Erdelyan and Wesley Rose. John/Johnny Erdelyan also produced Mickey Newbury (writer of 'Just Dropped in to see what Condition my Condition was In' and other great songs), and many other artist in Nashville. Johnny's creative skills also led him to pick some of the greatest match ups between songs and artists that includes the Ray Charles recording of the song, 'I Can't Stop Loving You'. Out of hundreds of songs I wrote during the 1970s all those I recorded in Nashville were chosen by Johnny Erdelyan. He was a great friend and had an exceptional ear for music. Gary worked with Jack Kershaw and they published the book, The Stringbean Murders. The book told the story of how Stringbean, (David Akeman) and his wife Estelle were brutally murdered.

1975-76

Worked closely with Jack Kershaw and Mary Noel-Kershaw in various business development projects. Helped launch the first video game, (also known as PONG), in association with the company, Video Design. Gary began to delve into investigative work for Jack that would, in a few years, be the catalyst that helped him make a decision that would redirect his entire life. Wrote and produced AN OLD FRAME HOUSE. Members of the George Jones backup band played on the session.

1977

Worked with Jack Kershaw, attorney for James Earl Ray and and associated with Mark Lane who would also become one of James Earl Ray's attorneys on the investigation of the assassination of the (Nobel Peace Prize Winner) Reverend and Dr. Martin Luther King Jr.
Excerpts from US Government book identifying Gary as the Special Investigator, investigating in association with the House Select Committee on Assassinations Mark Lane co-authored with Dick Gregory the book, Code Name Zorro, that would later become a motion picture project for Wesley Snipes. During my investigation of Dr. King's murder I wrote and Recorded the song THEY SLEW THE DREAMER . It was published by (Now SONY/ATV MUSIC) the Acuff-Rose Music Publishing Company, Milene Music Inc. ASCAP Gary met Roy Acuff this year who was helpful to him during this difficult year. Mary Noel-Kershaw was the co- writer on the song. Acuff-Rose was the Oldest and most Renowned Country Music Company in the world during the time Gary spent working with them. THEY SLEW THE DREAMER was released as a single record on Rebel Records of Nashville and immediately came under attack by the press. The recording would eventuall be released on the Jongleur Music label. Wesley Rose and Johnny Erdelyan had coproduced the original recordings Peanut Man, Land of Make Believe, In My Dreams, My Baby's Gonna Leave, which were reproduced this year by adding the orchestrations and arrangements by Alan Moore and the remix by Elvis Presley engineers/mixers Tom Pick and Roy Shockley. These new remastered tracks were scheduled for release on a new label Gary was forming, Star City Records Inc. but the release was delayed until 1979.

1979

Gary also released the single record AN OLD FRAME HOUSE on Frame House Records and other singles that eventually would be on his album, Revel, released by Star City Records Inc. Gary's memoir, To Live or Maybe Not, and a screenplay by William Sachs, MLK, provide some of the details of this year.

February 7, 1980

Gary moved himself, his wife and three children; Gary Jr, Curtise, and Mary Revel to Hollywood, California where he reaquaints himself with some of his old friends.
Rebecca Ann Revel was born this year.

1981

Released the single record BOUND TO LOSE on Plain Wrap Records. This was a song Gary had written and produced in Hollywood in 1970 or 1971.

1982

Earned Diploma in Advanced Theology from American Bible College, Pineland, Florida, USA. Elisabeth Marie Revel was born. Wrote PAC-MAN ON HER MIND with Joe Yore and released it on his newly formed record label Top's Records. Gary produced this record with Irfan Mirza and some of the Mac Davis backup band were the session musicians.

1983-84

Wrote UMBRELLA GIRL with Lockie Head. Produced the single record UMBRELLA GIRL with B Side, RIVER BOTTOM ROAD and released it on his Top's Records label. Gary also founded a Christian Counseling ministry, Friends Indeed. He often worked the streets of Hollywood ministering to those who were on the brink of destruction. His ministry included answering calls of those who were desperate and sometimes going to their homes to pray for them and offer encouragement and help. Gary led many to the saving and healing touch of our Savior Jesus Christ.

1985

For his next music project Gary took the name of 'Czar Tuck' then recorded and released the song TREAT AMERICA LIKE A LADY on his label, Top's Records. Lead Guitar/Ronald Hershewe.

The song was dedicated to First Lady Nancy Reagan at a ceremony in Santa Barbara, California, USA.

The song was then recorded by Actor: Hal Jon Norman in a dramatic vocal performance and released on Top's Records.

1986

Worked with Robert McDaris, Rex Faulkner, Magical Bessemer and others while recording Hollywood Star and some other songs in the famous Capitol Records studios on Hollywood and vine.

1987

Gary spent most of this year helping his son, Gary Revel Jr. get established in the entertainment business. Later this would prove to have been an important time in his son's life as Gary Jr. would go on to be an international singing star.

1988

Began working with Dale Tuttle on getting his music released. Moved from Hollywood to Canoga Park, California.

1988-90

Wrote "I KNOW (We're Gonna Make It Love)". Produced the single record with Dale Tuttle being the recording artist and another song, Maria, on the B side. Released it on my labelTop's Records and it hit the Cashbox indie charts. Alan Young worked on promotion.

1991-96

Six children in school, sometimes 4 different schools at the same time. Gary was very involved with their education. He and his wife Linda, often served in the PTA becoming Chairman of the Ways and Means Committee and then Co-Presidents at the Nevada Elementary in Canoga Park, California. Worked with Lydia Black on some songs and music procutions.

1997

I negotiated and executed an agreement with filmmaker William Sachs to bring the story of my investigation of the Martin Luther King Jr. assassination to film.

1998

I consulted with Producer -Director-Writer William Sachs on the screenplay for the movie tentively titled MLK about my investigation of the King Assassination. It is optioned by Braun Entertainment Group Inc. (Zev Braun and Philip Krupp) of Beverly Hills, California in association with Ted Turner's TBS. Working with Tom Krumell on songs and music production.

1999

I release some of my music including They Slew The Dreamer on the internet.

A jury in Memphis, Tennessee finds Lloyd Jowers guilty of being one of many conspirators in the assassination of Martin Luther King jr. This finding validates Gary's stand on the evidence since his investigation in 1977. No longer can any credibility be given to the false assertion that James Earl Ray killed Martin Luther King Jr.
2000
I enter the fulltime ministry of the Lord Jesus Christ. Held my first evanglistic crusade on April 28, 2000 at the Warner Center Marriott Hotel in Woodland Hills, California. He debuted THEY SLEW THE DREAMER at one of his Christian Concerts on August 27, at Chatsworth Foursquare Church.




Co-wrote and recorded the song, MEET THE LORD IN THE SKY (Gary Revel and David Garcia) with Joe Rubino coproducing, doing background vocals and playing lead guitar. Part of his ministry included his testimony of how God protected him in the midst of his investigation of MLK's assassination. Martin Luther King Jr's murder was planned and executed by organized crime and government insiders and was brought about partly by King's stand against the Vietnam War.

2001

I release some of my songs on mp3.com and HOLLYWOOD STAR" HIT THE TOP 10, AS DID "HOW MUCH MORE" also "MY BABY'S GONNA LEAVE" HIT THE TOP 100 OF THE NEW COUNTRY CHART.
On August 17, 2001 Gary Revel wrote a letter to Attorney General John Ashcroft dealing the assassinations of Martin Luther King Jr, President John F Kennedy and Presidential Candidate Robert F Kennedy. The letter delved into conspiracy and how various groups work together for evil purposes. Within a month of his letter the United States suffered the worst terrorist attack ever. If the Attorney General had read this letter and acted on the information contained within America might not have suffered the attacks on 9/11/2001.

Gary Revel Jr. wins Finnish Star contest in Finland.

2002

Gary's new song "MEET THE LORD IN THE SKY" is a hit as of January 5, 2002 and his other hit songs HOLLYWOOD STAR, AS LONG AS WE'RE TOGETHER hit the top 40 of mp3.com's music charts September 29 of 2001 in their respective categories of Rock-Americana and Country-General.

Had a head-on collision early in 2002 and reports of my death from the collision are greatly exagerated. Was spending most of his time recovering from the accident and writing. Finished an autobiographical work "To Live Or Maybe Not" . Gary Revel Jr. wins the Finnish Star in Finland.

2003

Still recovering, and writing. Some time around this time Sony/ATV Music buys Acuff-Rose which includes Milene Music Inc. and the copyright to 'They Slew The Dreamer' as well as other songs by Gary. Gary calls Sony/ATV Music Nashville and learns that at least several of his demonstration recordings of his songs have been lost.

2004
Published first autobiographical literary work, TO LIVE OR MAYBE NOT.

He also publishes 4 books of poetry, The Poets Fare, Eternal Pursuit, Nobody and A Frost Thought, as well as the House Select Committee on Assassinations Interviews with James Earl Ray he recorded at Brushy Mountain Prison in 1977.
2005
I publish my new book of poetry, 'Milestones' at lulu.com. The book is a compilation of his 4 chapbooks of poetry and new poems, some from his picture-poetry.

Official Web Site for Gary Revel and Jongleur Music Web Site launched.

A link to a free e-book of over 50 poems by Gary is on the site as well as links to more of his poetry and art.

Gary releases a new CD "Deep Mountain Lake" on his Jongleur Music label. The CD includes 11 songs published by Sony/ATV that he wrote or co-wrote over a period of time that spans about 20 years. It is a semi-compilation CD in that ten of the songs are performed by Gary as the recording artist and one of the songs, I KNOW, is by the recording artist Dale Tuttle.

Gary releases a new Christian-Pop CD "I Give You Praise" on his Jongleur Music label. The song is published by his Jongleur Music publishing company.

Both these and An Old Frame House CD Single also the Christian CD Minstrel Sirvente are now available as well.

AN OLD FRAME HOUSE starts getting played on several Internet radio stations. Gary releases I KNOW, Artist: Dale Tuttle on the internet and it is immediately picked up and added to the Radio Louisiana playlist.

2006

June 1st the CD-Album DEEP MOUNTAIN LAKE reached #23 on the Americana/Country Chart of the Roots Music Report. Gary releases the CD Album IN MY DREAMS on the Jongleur Music label. Gary hits the UBL Top 100 and Pop Charts.

Daughter, Elisabeth Revel gave birth to a newborn baby girl on November 11, 2006. Her name is Ariel Marie Revel-Marella.

2007

Gary is traveling a lot this year and visiting family and friends. William Sachs has the option for the movie to be based on the story of Gary's investigation of the assassination of Martin Luther King Jr. The music video of the song THEY SLEW THE DREAMER is available and has been viewed over 30,000 times. A number of interesting comments have been left at it's You Tube posting.

Gary also releases Mother Nature the music video with a hint at the possible dangers of Global Warming by Gary is playing on YallWire.com.

2008

I am teaching Sunday School at St. Christopher's Episcopal Church in Killeen, Texas. Always a blessing to share the love of God to others and even more special when it's children.
Albums now playing and for sale on iTunes and more.

FIRE AND THE HOLY GHOST
A GARY REVEL CHRISTMAS
THEY SLEW THE DREAMER
MARTIAN BOOGIE
Junior's Cave Interview
Christian Lamitschka Interview

2009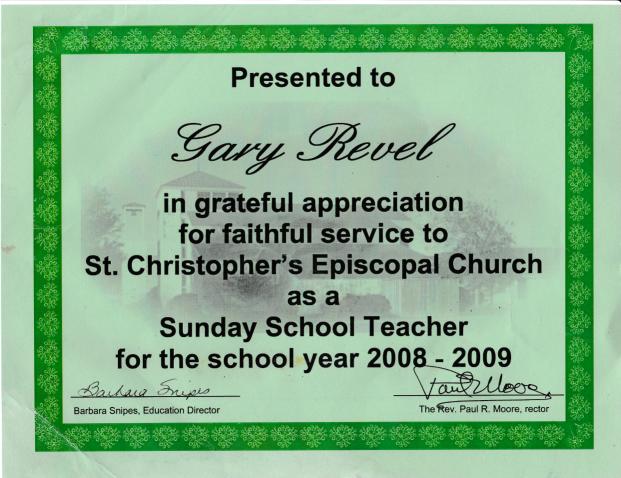 Continued teaching Sunday School at St. Christopher's Episcopal Church.

Rebecca divorces Ron Gurule and marries William Buglehall in July. Gary begins work on a new screenplay with Robert Burnside about the JFK assassination.

2010

I am living in Harker Heights, Texas now.
Jongleur Music releases a new remix and remaster of They Slew The Dreamer on the Reverbnation.com disitribution channel.

MLK Movie Presentation published. The presentation is a Web Page presentation as well as available in Power Point and Power Point slide show.

Still attending St Christopher's Episcopal church in Killeen, Texas, Father Paul Moore.

Completed a new screenplay about the JFK assassination. It is co-written by author Robert Burnside and the title is 'Other Thing'.
An old friend, Robert McDaris, owner of Puppet Soup Records, gets back in touch with Gary after many years. Released a new album by recording artist, 808, and a new single by recording artist, Joy Pershall, on the Jongleur Music label. Gary edited and published a murder/mystery/crime novel, CHILLED OVER ICE, by author, Toya Marie Jordan. It's on paperback and amazon.com and hardcover at lulu.com, also epub at iTunes. New album, MUSIC THE DEVIL HATES, on The Christian Jukebox. New granddaughter, Olivia Buglehall, thanks to Bill and Rebecca Buglehall. One of my oldest and dearest friends, Jack Kershaw, died.

2011

Releasing new Original Rock and Christian Music on Jongleur Music/Riant Records. New artists; Steve Mac, Curtise II and Mickey Hunkin. Jongleur Music Book Publishing adds a number of new titles. Jongleur Music Pictures adds several new screenplays to it's development schedule. Gary began editing the Leutrell Osborne memoir BLACK MAN IN THE CIA that is scheduled for publication in 2012.
---

Gary and Linda have six children:
Gary Neal Revel Jr.; Born in Nashville, Tennessee, 1973.
Curtise Leamon Revel II; Born in Nashville, Tennessee, 1974.
Curtise has a daughter, 'Cathrynn' and a son, 'Sonny'.
Mary Noel Revel; Born in Nashville, Tennessee, 1976.
Mary Revel is married to Michael Lezynski
They have three daughters, Kaila, Elisabeth and Hannah
Rebecca Ann Revel; Born in Hollywood, California, 1980.
She is married to William Buglehall and they have 2 sons and a daughter, Jacob, Nathan and Olivia.
Elisabeth Marie Revel; Born in Los Angeles, California, 1982. Elisabeth has a daughter, Ariel Marie Revel-Marella and a son, Jayden.
Sonny Americas Revel; Born in Los Angeles, California, 1985.

2012

Published Black Man in the CIA via Jongleur Music Book Publishing. I started developing RED POLKA DOT DRESS (The story of the assassination of Presidential Candidate Robert F. Kennedy) and DON'T STOP DANCING (The True Life Story of Michael Jackson based on the Gary Revel Investigation) for a motion picture production. DON'T STOP DANCING is co-written by French screenwriter, Jordan Tate and myself; RED POLKA DOT DRESS is c0-written by Frank Burmaster and myself.

2013

My son, Curtise Leamon Revel, died of Stage 4 Cancer February 7th, 2013. This was only a couple of weeks after my brother Benny C. Revels died of Cancer in January, 2013.
Gary Revel Jr. recently performed as a contestant in the Voice of Finland television show. His friend Michael Monroe - Hanoi Rocks is his team leader and one of the judges on the program. Rebecca Buglehall is a Real Estate Agent with Coldwell Banker in Texas. My daughter Mary Noel is working as an accountant at McNutt Funeral Home in Conroe, Texas. My daughter Elisabeth is focusing most of her time on her daughter Ariel who has Autism. Sonny Revel in the business of managing maintenance of apartment buildings. I put together my resume for the Texas Veterans Commission, it is HERE or go to https://garyrevel.com/GaryRevelResu_me.html. Many of the works are available in print, canvas, photo and some are on mugs, puzzles and stuff like that. Frank Burmaster and I co-wrote the screenplay, Red Polka Dot Dress. It is a mystery/thriller that delves into the conundrum of the assassination of Robert F. Kennedy. My daughter Mary and her family have moved to San Antonio, Texas from Shenandoah, Texas. My mother, Martha Marie (Mitchell) Shows died Wednesday night 'November 6, 2013' at Scott and White Hospital in Temple, Texas. She was 89 years old, a steadfast Christian and a remarkable woman. In the last few months she told me several times to tell my family and others for her to please take care of their health, as it was the one thing they would need the most as the years go by. The Hospice nurse who was with her when I got to the Emergency Room told me that she had learned more about Jesus and God from my mother than anyone ever before. A little while later I was alone with her and naming the many names of her relatives and friends and telling her how they wanted her to know they loved her and were praying for her, then I saw her stop breathing. Soon she was pronounced dead by the doctor. I have no doubt that my mother is with Jesus now and forevermore and we'll see her when we receive our reward; when we go to our eternal resting place. Please know that my mother prayed for you as she did all her children, grandchildren, nieces, nephews, cousins and friends of us all. She especially liked to pray for those she did not know but who had no one to pray for them. God bless you; each and everyone that reads this and may the joy, peace and love of our Lord Jesus Christ be with you.

2014

My 35th Anniversary Release of music album, THEY SLEW THE DREAMER, is available on iTunes and other music sellers. Working with Investigative Journalist Bob Wilson I am starting to look into the assassination/killing of John Lennon. Frank Burmaster and I finished writing a screenplay, 'KING OF THE LITTLE PEOPLE' based on my investigation of the John Lennon assassination. The screenplay has been optioned by a group managed by Pat Becker that includes Director-Jim Edwards and Producer-Jeff Joslin. William Sachs is doing a rewrite of MLK, his screenplay that is based on my investigation of the assassination of Martin Luther King Jr. Jeena Ingraham has optioned 'LAST CLONE', my epic story of the cloning of Jesus Christ. 'RED POLKA DOT DRESS' which is the screenplay written by Frank Burmaster and myself about the assassination of Senator and Presidential Candidate Robert F. Kennedy is in Turnaround. Most recently Frank Burmaster and I have finished a screenplay, Eagles Soar, based on my story of an African-American CIA Agent (James Bond type) who saves the world (most necessarily the United States, the United Kingdom and Israel) from an ISIS nuclear threat. Gary Revel Jr. is busy with his theatrical and music career. Frank Burmaster and I just finished the first draft of the screenplay LAST CLONE. It's based on my story/treatment of the cloning of Jesus Christ.

2015

I'm working with some pastors, religious leaders, and supporters on a new ministerial association, Ministerial Association of Hope For All. We are planning a luncheon April 30th at 1:00 PM to be held at Christ Church, Temple, Texas. We're expecting those attending to speak freely about their concerns and suggestions as to how we can make the world a safer place for all people. Temple Mayor Danny Dunn and David Hall of Bell County Emergency Services are expected as well. The luncheon went well. Mayor Danny Dunn and David Hall from Bell County Emergency Services spoke. I still occasionally sing at church. Most of the songs I perform are found on my Youtube Playlist, GONNA ROCK. Gary Revel Jr. returned to the United States to live after living in Finland and around Europe for 16 years. He immediately began singing in clubs in Central Texas. His new single release, Sweet Child o Mine is being prepared for release in early 2016. My daughter Elisabeth is living with a girlfriend, Shelly Smith. They have plans to be married. Same sex marriages are legal now. I had hernia surgery with some complications in September, 2015 and recovered. Thank you Jesus.

2016

Sweet Child o Mine-Gary Revel Jr. has been released and is available on many music sale and download sites throughout the world. He was featured in a KWTX News broadcast on January 28, and interviewed by News Anchor-Marlena Hamilton. After the interview he sang At Last, a song most widely known for being an Etta James standard. I recently found out I have a hole in my heart. My Cardiologist said that I was probably born with it. I remixed and remastered Peanut Man and have scheduled it for release as a single. To hear the new track go to https://garyrevel.com/a&r/peanutman.html or click here. New artists on the Jongleur label include, Gal (Gal Eliyahu), Peace-zone, and Hijas de Zion. I got notice that my Michael Jackson motion picture project, Don't Stop Dancing, is scheduled to go into development, http://www.imdb.com/title/tt5810596/?ref_=nm_knf_t1. My wife and I signed our divorce papers today and had them notarized. Linda started putting it on Facebook that we were getting a divorce last year, so I guess I might as well agree to it. We have been living as if we were divorced for years so it's not really any difference in our life styles. I thank all of my friends and associates for your patience and understanding all these years. God bless you all is my prayer. I filed for divorce August 2, 2016. We finalized our divorce November 9, 2016

2017

I have recently fallen in love with another woman. Her name is Naomi Wanjiru Kibe-Revel. We are married by God and will fulfill our marriage vows and promises as God leads and makes the way for us to do so.

New books I have published this year, 2017:
Hillary and the Mystery of the Secret Cave

The Adventures of Hillary the Little Ladybug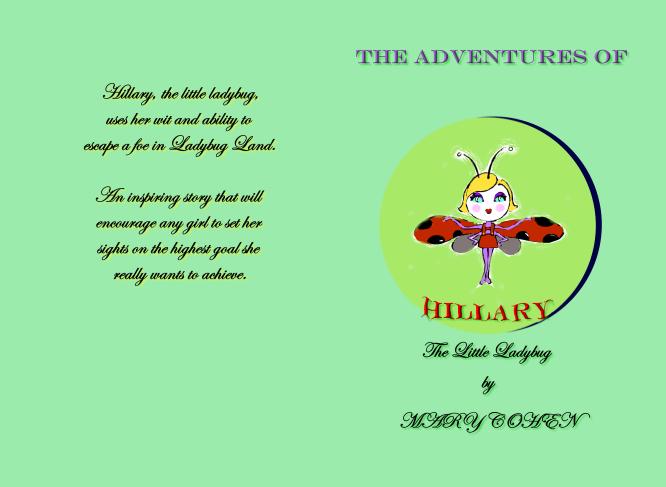 Author: Mary Cohen, Editors: Naomi Kibe-Revel & Gary Revel, Illustration: Gary Revel Jr.
Hillary, the little ladybug,
uses her wit and ability to
escape a foe in Ladybug Land.

An inspiring story that will
encourage any girl to set her
sights on the highest goal she
really wants to achieve.

2018

Lots happening this year. New motion picture negotiations in process. The political satire of the cartoonish Donald the Trumpbird came on the scene as a backlash to the extreme nature of Donald Trump's presidency. It's found on Twitter as Donald Trumpbird tweets. Gary has co-written 2 new screenplays with Frank Burmaster, TO JODIE WITH LOVE, based on Gary's investigation of the attempted assassination of President Ronald Reagan and NO MAS, based on Gary's investigation into mafia complications related to Championship Boxer Roberto Duran.

2019

Jessica Carasco has joined Jongleur Music Pictures as Executive Producer of No Mas. Love Logan has also joined us and is Executive Producer of Re-Animate. This is the adaptation of the book The Kales Report: Ode to the Undead. It is a Zombie Apocalypse based on the journal of how Joseph Kales tries to stay alive as he also tries to unite with his girlfriend amongt the apocalypse of zombies. Working on a reality show with Naomi and I spending some time in Kenya. Just finished a new screenplay, Assassinations Inc., with Frank Burmaster. It's based on one of my investigation stories that whirls around Tommy Boggs, a Washington DC lawyer and lobbyist whose dad was the controversial Hale Boggs. Hale was murdered because of his efforts to start a new investigation of the MLK and JFK assassinations. Frank and I finished writing a new Lethal Weapon movie, titled Lethal Weapon: To Die For. Patrick Wood is writing a book about the story of my early life and how it affected my investigation into the MLK assassination titled, Zorro: The Plot that Killed MLK, On March 1, 2019 he published Chapter 5: Casualties of War, the question it asks is: "Will the murder of his 19 year old brother stop Gary Revel in his quest for the truth?" Frank Burmaster is the co-writer with Gary Revel of several new screenplays based on Gary's investigation stories. Jeff Olm is an Executive Producer of MLK and the new Director of Distribution for Jongleur Pictures, Patrick Wood is an Executive Producer of MLK and the new Director of Development and Darrin Flanagan is a new Executive Producer of MLK.

Jongleur Books has new titles including, The Lost Son by Aidan Lucid, The Adventures of Tickles and Giggles by Danna Cooper, The Owl That Said What, Barkley and Silvia, Megamerse, Megamerse Eye of Africa, and Megamerse Cold Fusion Energy, by Richard Faith. Unsane by Mr. Ben is a new single release from Jongleur Music label. Gary did a benefit concert in Upstate New York in November of 2019. He helped raise money for local charities in Oswego and Fair Haven. The Little Sodus Inn and GS Steamers Bar and Grill were the venues of his shows. George Broadwell and Richard Faith were the sponsors. Triple Threat; Steve Watson, Taylor Ricks and William Barlow was the band. Gary founded Mother Nature Festival TM in 2019. Plans are to do a launch of festivities to Educate, Inform and Inspire of the dangers of Global Warming. It is a 501 (c) 3 nonprofit corporation. The Website is http://mothernaturefestival.live Click Here to Learn More...

The slate of motion picture and television projects Gary is invovled in are found HERE. My YouTube account is here. Thank you to all my fans that are enjoying my music videos. If you haven't seen any of them yet and would like to see them, FREE, Click Here. Several movie producers are working very hard on getting my movies set up and into production. I am humbled by their interest and effort on my behalf.

2020

I took Linda to the emergency room at Advent Hospital in Kileen, Texas, December 17, 2019. She was admitted later that day to the ICU with Pneumonia, Flu, Pleurisy and Sepsis. The doctors and nurses did amazing things, saving her life and after a week or so was transferred to Baylor Scott and White in Temple Texas. Again wonderful doctors and nurses saved her life a number of times as she had numerous surgeries and was on life support for weeks. She was then transferred to Cornerstone Specialty Hospital in Austin, Texas where she is currently, February 25, 2020. The last couple of months have been hazy and somewhat chaotic with spending so much time going back and forth to hospitals. Still, God is good and ever the gracious, merciful and eternal strength we all need especially in times of trouble. Prayers are available for all here. My new songs, Have A Happy New Year, True Blue, and You, dropped and are available on iTunes and other music sellers and streaming services.

2021
Formed Jongleur Pictures LLC. My new screenplay for my MLK assassination investigation story is written by Frank Burmaster and myself. Jeff Olm is scheduled to produce and direct. We are in the process of attaching A-list talent and developing funding for the movie. I am doing radio, television, blog and podcast interviews now. Here is a recent one I did with Arise TV - Host Charles Aniagolu


Here is another interview I did with In Black America, a nationallly syndicated, long running, radio program and podcast hosted by John Hanson Jr. Click Here, to open the interview in a new browser.

My new song, To Live or Maybe Not, dropped and is available on iTunes, and other music sellers and streaming services. The new They Slew The Dreamer dropped as well. click here to listen on iTunes.

As to Jongleur Books, we published new books: The Wellness Seed, author Hillary Polednik. Books by Richard Faith Crocodilly Lilly: Not So Toothy A Grin, "I Can Barely See" Said Mandy Manatee, and Bee Scared, illustrated by Todd Hobin. I've Seen Dead People-Diary of a Deputy Coroner by Donna Francart. ABC Owl, and Global Warming A to Z by William Dandurand. Washington Coup by Robert Burnside. Versa Libra One and Versa Libra Two by Matt Holden. The Scavenger by Aidan Lucid. Both Jongleur Books and author, Robert Faith, are giving half their income from the sale of Bee Scared to Mother Nature Festival Live Inc., a nonprofit organization whose mission is to stop Global Warming. William Dandurand, the author of several books published by Jongleur Books, is also using Global Warming A to Z, to help support Mother Nature Festival Live Inc.

2022

I Was riding my bicycle on January 13th and hit by a car. The Emergency Medical Techs picked my up off the street and rushed me to the Seton Hospital Emergency Department. I had a broken hip and the impact injured the fractured vertebrates and fractured rib I had from Vietnam War operations. The doctors and nurses were terrific, helping me get back on my feet and I am doing much of what I did before the accident. Mother Nature Festival Live Inc. had a benefit concert in Oswego, New York on April 30. The Great American Robber Barons and Frostbit Blue performed. Kevin Silvers new Mother Nature theme was played and all had a good time. Cameron Arnett has signed on to direct my MLK movie. Jacob Persico, my nephew is our new Webmaster at garyrevel.com and mothernaturefestival.live ... I have a new video, Gary Revel: Jesus and the LBGTQIA Community. It's on Youtube.


Much has happened during 2022; We just haven't had the time to keep this biographical summary updated. We will try to keep it updated, but not sure how much time we'll have.
2023

Since the last post I have had surgery twice. First was the removal of three of my cervical discs. They were replaced. Then I had eye surgery. All is well. I am back on my feet and doing fine. I've been very busy with music, books, feature film development, stopping global warming, Christian ministry, and I am enrolled in a Bachor of Science degree college program at Full Sail University for my degree in Entertainment Business. So much has happened. I will find the time later to catch up on this summary but for now use the links below to stay up to date. Official Website-Global Gateway
Facebook
IMDB
Instagram
Linkedin
Ministry
Pinterest
TikTok
Tumblr
Twitter-now X

---
---
SPECIAL NOTE: My grammar school teacher, Ann Lathrop, found me on the internet and left the following message to me. She is one of 3 teachers/professors I've had that I remember for their remarkable dedication, commitment and love for their career.
"Yesterday I was talking about that first year that I taught school more than 50 years ago and told my friends that I remembered the smartest boy I ever had in any of my classes over the years, a boy named Gary Revel who lived with his mother and several siblings in a small house with (as I recall) a dirt floor. When they asked what became of him, I decided to "Google" you and here I may have found you. I don't keep up with the music world any more so I didn't know any of your work. I am a retired Professor from California State University, Long Beach and now live near my sons and grandchildren in Eugene, Oregon.
I don't want or need anything from you, nor am I trying to claim any of your fame. It's just that you are a part of my memories and I am curious to know if you really are the Gary Revel I taught 50+ years ago.. Whether you are the Gary I taught or not, please accept my congratulations for what has obviously been an amazing and outstanding career."

Ann Lathrop alathrop@csulb.edu
---
TO LIVE OR MAYBE NOT, the personal memoir of Gary, available at AMAZON.COM.
---
Billboard's ... international talent touring directory 1993
Songwriter's market, 1991: where & how to market your songs Mark Garvey - 1990 - 521 pages
Gary Revel Music (ASCAP), Jongleur Music, Top's Records.
Who's who in the world, 1990-1991-1992 - 1218 pages
Pres., chief exec, officer Star City Records, Inc., Nashville, 1979- 80; songwriter Milene-Opryland Music, Nashville, 1975; owner, pub., songwriter Gary Revel Music, Hollywood, California., 1980, Jongleur Music, Hollywood, California...
Baker's Biographical Dictionary of Popular Musicians Since 1990: ...
David Freeland - 2004 - 880 pages
Who's who of emerging leaders in America
1989 - 667 pages
Billboard - Feb 15, 1986
Vol. 98, No. 7 - 88 pages - Magazine
MESSAGE TO KHADAFY: Gary Revel of Top's Records in Hollywood has added Libya's strongman Col. (Libya's Muammar Gaddafi) Khadafy to those receiving his recent release, "Treat America Like A Lady" by Czar Tuck. In an accompanying letter, Revel says he hopes Colonel Gaddafi will change his mind about how he rules his people.
Songwriters Market-86
Rand Ruggeberg - 1985 - 387 pages - Snippet view
Doug Moody Music Michael O'Connor Music O'Lyric Music Peer-Southern Organization Philippopolis Music Players Press Inc. Gary Revel Music Rhythms Productions Rockmore Music Brian Ross Music Sasha Songs, Unlimited Scotti Brothers Music.

Who's who in California: Volume 16
Who's Who Historical Society (Calif.) - 1985 - 500 pages
CEO Gary Revel Music 1980-, Jongleur Music 1983-, Top's Records 1983- ; cons. Friends Indeed (1982-84); ... Address: Gary Revel Music 5341 Loma Linda Ave Ste 5 Hollywood 90027
Movie/TV Soundtracks and Original Cast Recordings Price and ... 1982
Jerry Osborne - 2002 - 675 pages
Composer: Gary Revel, Eddie Downs, others. Conductor: Judd Phillips. Cast: Gary Revel, Chapparral Brothers, Brian Mark, Wayne Storm, Noble "Kid" Chissel, Mike DeTemple.
ASCAP biographical dictionary American Society of Composers, Authors and Publishers, Jaques Cattell Press - 1980 - 589 pages
Investigation of the assassination of Martin Luther King, Jr: ...: Volume 11 US Government Printing Office - 1979 Gary Revel, Investigator for Mr. Jack Kershaw. (Louis H. Hindle, Stenographer, Select Committee on Assassinations) . MR. LEHNER: We have had some preliminary talks not on the record, but I understand that Gary has been taping (Gary, Reference to Special Investigator Gary Revel, who was investigating the assassinations of President John F. Kennedy and Civil Rights Leader/Nobel Peace Prize Winner, Martin Luther King Jr...
John Willis' screen world: Volume 26
John A. Willis - 1975
Screen world: Volume 26
John A. Willis, Daniel C. Blum - 1975
Eddie Downs; Balladeers, Gary Revel, Chaparral Brothers, Brian Mark, Wayne Strom, Noble "Kid" Chissel. Mike DeTemple; In DeLuxe Color; Not rated; 80 minutes; July release. CAST: Titus Moody, Hal Jon Norman, and the real hoboes...
Billboard - Oct 27, 1973 - Page 40
Vol. 85, No. 43 - 88 pages - Magazine
Songwriter Gary Revel is a new father. The baby boy, Gary Neal Jr., was born in at just under seven pounds.
The Oak Ridge Boys, just finished with their first session for Columbia, will appear on the Mike Douglas TV Show next week, ...
Billboard - Aug 26, 1972 - Page 68
Vol. 84, No. 35 - 72 pages - Magazine
Byron Spears, director of Bee Gee Records, Inc., of Los Angeles, has released a single on Gary Revel. The title of the single is "Let Those Bridges Burn". Revel wrote six of the tunes in the film score "The Last of the American Hobos."
---
Website Copyright 1977-2023 by Gary Revel

Home