New York City, NY USA
July 8, 2016

Bob Dylan at Forest Hills: July 8th, 2016
with Mavis Staples
by Music Reporter, Bob Wilson
Entertainment News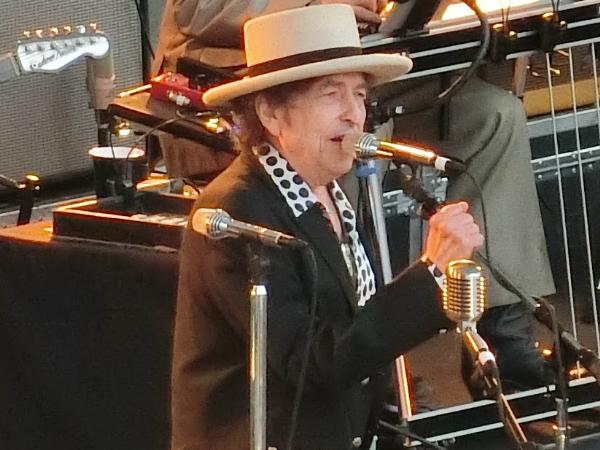 Photography by Kacper Jarecki


Mavis Staples used to open for the Rev. Martin Luther King, Jr., with her family the Staples Singers before he presented many of his historical speeches. Rev. King's favorite song was written by Mavis' father, Pops Staples, entitled, Why Am I Treated So Bad?'. Tonight Mavis, who once rejected a Bob Dylan marriage proposal because she was 'too young', played an 8 song set opening for Bob Dylan. Mavis remarked to the crowd that she was a soldier, and of course, she meant a soldier of love. Mavis may have caught Dylan's eye in her youth, but her life has been about a far deeper and more important type of love than merely the romantic. As a statement to the endurance of love, she reminded the crowd that she is in her 66th year of performing. Her voice filling the air of the Forest Hills Stadium belied time having any power to diminish her power, or her message. The Gospel singer, mentioned in Dylan's favorite of his own compositions, Shot of Love, fired on all cylinders and claimed the stage as her own from the moment she sang her first note.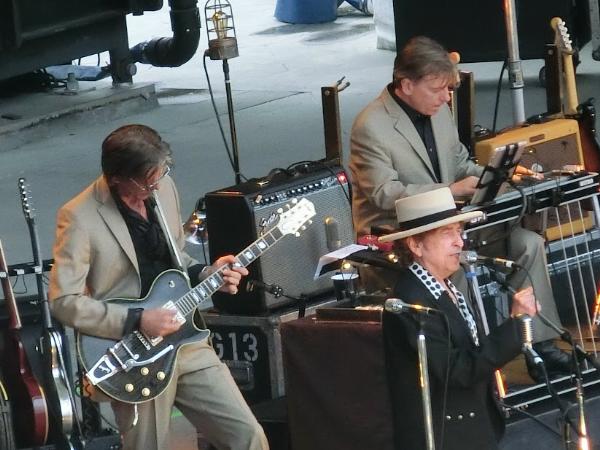 Mavis played a set opening with, If You're Ready (Come Go With Me), followed by Take Us Back, Slippery People, and Love and Trust. Mavis moved on with the Buffalo Springfield song, For What It's Worth, and she made the anthem her own. The classic is instantly recognizable, and it is no small feat for an artist to so easily make such a song belong to them. It was one of the highlights of the entire show, and had all in the crowd swaying as one individual unit. Mavis and company finished the set with Dedicated, and I'll Take You There.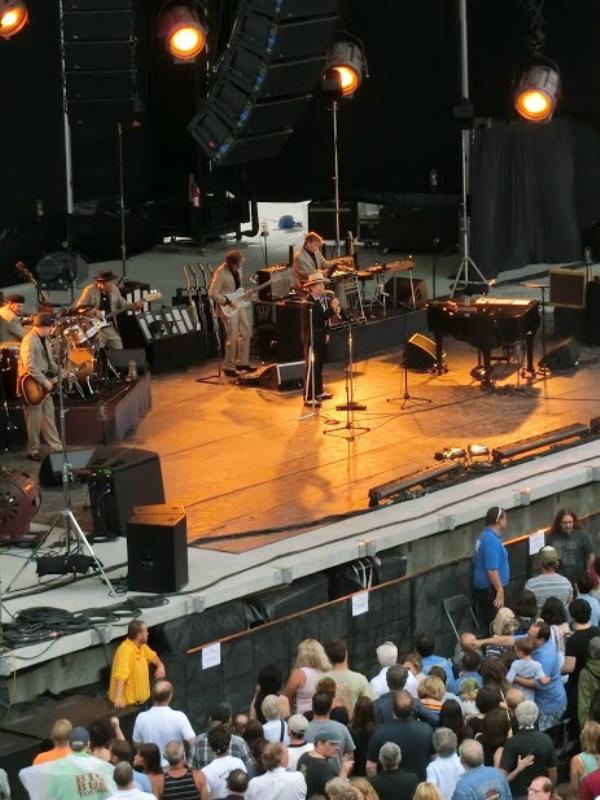 Bob Dylan returned to Forest Hills after a mere 51 year hiatus, singing without his guitar at a microphone, or sitting at a piano decorated with a tennis racket. Dylan opened his set with the Academy Award winning song from 2000, Things Have Changed from the film Wonder Boys. Dylan had on a pair of spats, and his Boss of the Plains cowboy hat (but he wasn't drinkin' champagne). For his second number, Dylan went to the 1965 set list for the only time during the evening, but played a musically tweaked rendition of She Belongs to Me (from 1965's masterpiece, Bringing It All Back Home). There has been a lot of water under the bridge since, and it speaks to Dylan's songwriting prowess to require only two tracks from his own pre-1970's catalog for such an important show as this evening was. Despite any downplay, the original 'boo-ing' had to hurt the performer at the time, even if he didn't show it. This time around, the entire set list could be chosen with only one song from his acoustic period being included. In fact, most songs from the evening were from albums released in 2012, or later. Most noticeably hit-up were Tempest (2012), Shadows In The Night (2015), and Fallen Angels (2016). The latter two albums feature songs made popular by Frank Sinatra.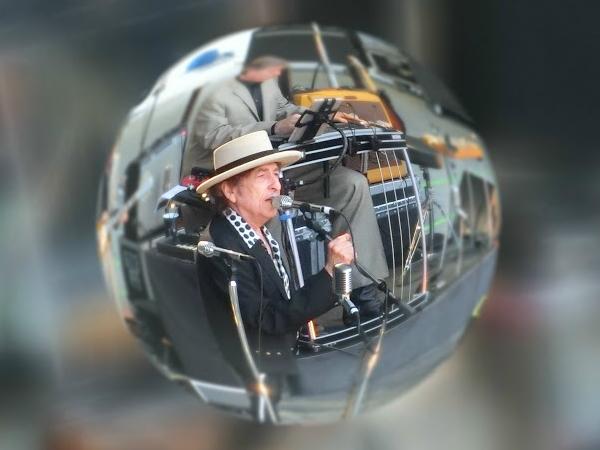 Dylan moved on with 2009's Beyond Here Lies Nothin', which could be described as dance-able. The Sinatra cover, The Night We Called It A Day, was followed by the first of five tracks from Tempest, Pay In Blood. Pay In Blood is as much a 'Jesus' track as any from the overt Christian catalog, and as much of an anti-war anthem as any of Dylan's protest songs. The Scriptures identify just who is bound in a chain that they 'never will break', and is the force behind the current eras 'never-ending war' (Revelation 20, verses 1 & 2). Judgment awaits the culprit, while the singer's tab is being paid by the blood of another. You must pick one or the other, but payment is required when time expires.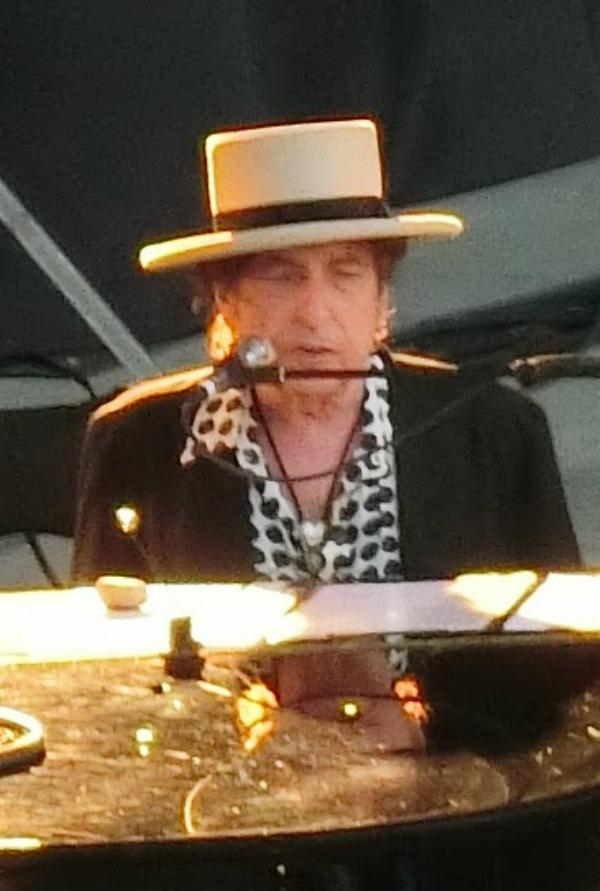 The first half continued with Melancholy Mood, the 'B' side to Frank Sinatra's first ever single, recorded with Harry James. After Dylan continued the surprisingly-sized overall homage to Sinatra from recent times, he moved on with one of his train songs, Tempest's Duquesne Whistle. Sammy Fain and Lew Brown's, That Old Feeling added another heaping of Sinatra ballad, and the first half drew to a close with a hypnotic rendition of Tangled Up In Blue, that drew the crowd in as if Dylan's warble held some power akin to magnetism to metal.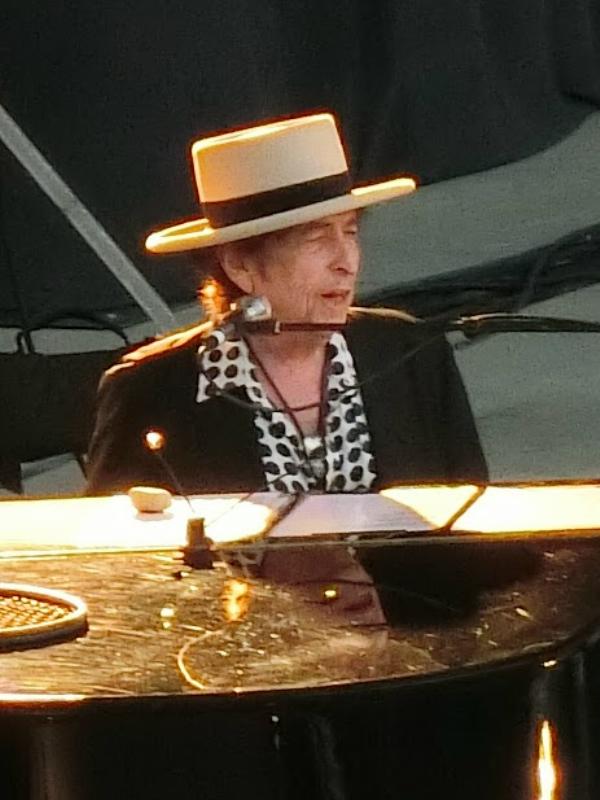 Rain had blown down in cold spurts, but not enough to dampen the festivities. Perhaps that led to the second half opener of, High Water (For Charlie Patton). Just when I wished that the star of the evening would leave the Sinatra covers for more of his own compositions, he blew the lid off somehow with Why Try To Change Me Now? It was not what one would expect on a rainy night in an open stadium, with Dylan standing at a microphone. Legend aside, it is not what you would list among playing to his apparent strengths. It was the strongest of the Sinatra related numbers of the evening. A poll would likely not have included any of them, if they were chosen on a ballot leaving off the most popular anthem associated with the artist, Like A Rolling Stone. It rolled fast and kept on rolling not to be seen, as more casual fans may have been a tad but disappointed at the exclusion.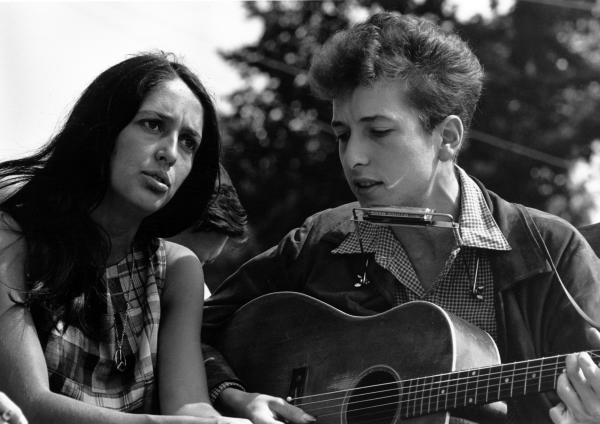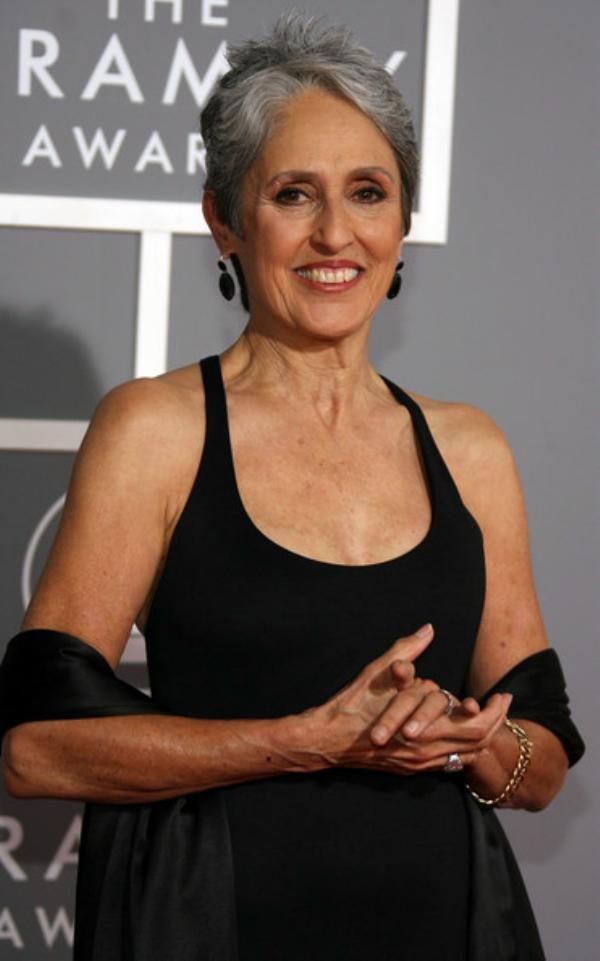 JOAN BAEZ at the 49th Annual Grammy Awards


In 1963, Dylan and Joan Baez sang prior to the Rev. Martin Luther King presenting his 'I Have A Dream Speech', in front of 250,000 people at the March on Washington. As racial tensions and shootings hung in the air this evening, Rev. King seemed the unseen yet palpable guest. As Dylan ripped into the bluesy, Early Roman Kings, the track from Tempest seemed to identify who the mysterious men were behind the curtain and world events.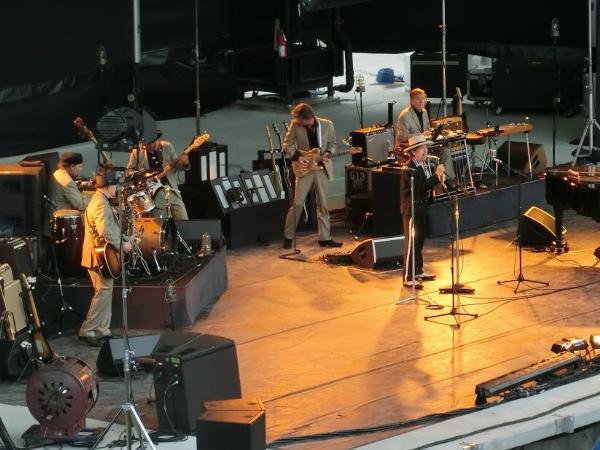 King was murdered on April 4, 1968, a year to the day after he gave his 'Beyond Vietnam' speech at the Riverside Church. King called Vietnam "one of history's most cruel and senseless wars." The emperors promise a new age, but times seem to change only with more frequent warfare, and more pervasive poverty.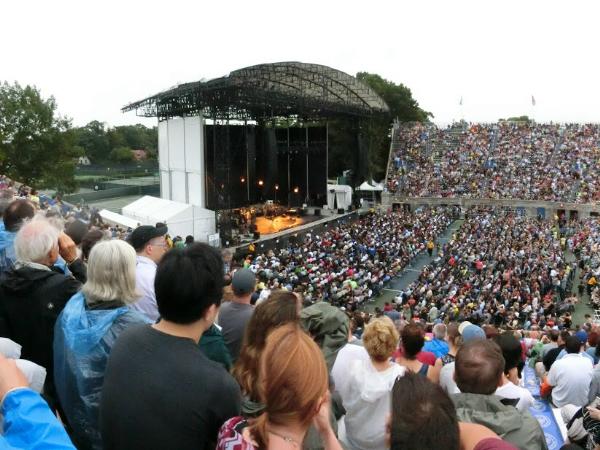 The Early Roman Kings are 'peddlers and meddlers, they buy and they sell'. They destroyed your city, and they'll destroy you as well'. They are masters of war, and seek profit at the expense of the lives of others. King had spoken out in 1968 against poverty in 'The Poor People's Campaign'. Mavis loved the way the serious Rev. King would smile when he heard, "Why Am I Treated So Bad?" We certainly could use a leader such as Rev. King alive to lead us today, exposing these modern day emperors.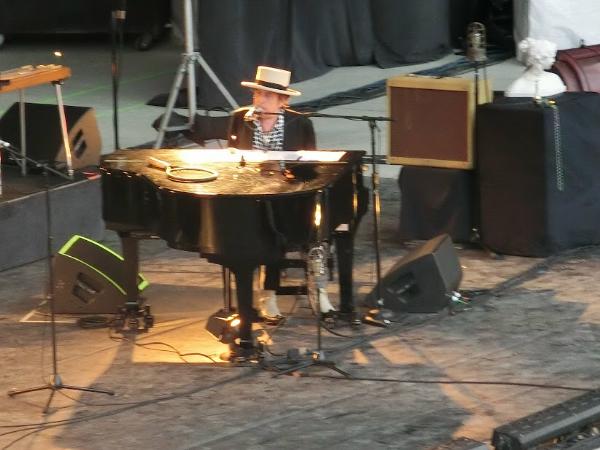 In Rolling Stone Magazine, Dylan once remarked of Rev. King, the Kennedy brothers, and the political climate, in general: "I don't know. It's very popular nowadays to think of yourself as a secular humanist. That's such a bullshit term. It means less then nothing. Who was a better president? Well, you got me. I don't know what people's errors are; nobody's perfect, that's for sure. But I thought Kennedy -both Kennedys-I just liked them. And I liked Martin...Martin Luther King. I thought these were people that were blessed and touched, you know. The fact that they all went out with bullets don't change nothin'. Because the good they do gets planted. And these seeds live on longer than that."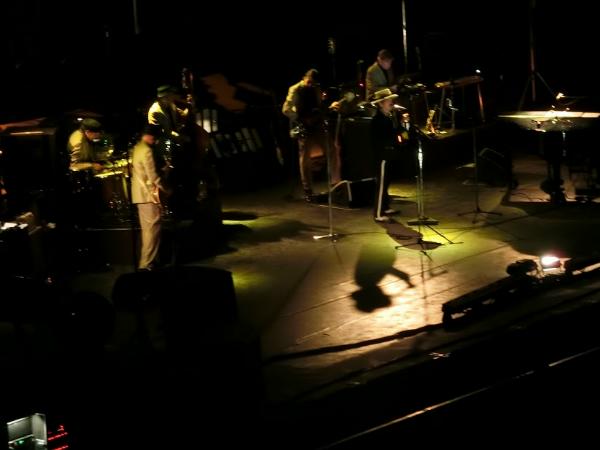 Dylan then crooned another Sinatra inspired number, I Could Have Told You. Spirit on the Water from 2006's Modern Times had the crowd protesting when Dylan was singing of some asking if he was 'past my prime'. Clearly, the lyrical content of Dylan's music alone has more lasting power than the pyramids, and contains far deeper mysteries.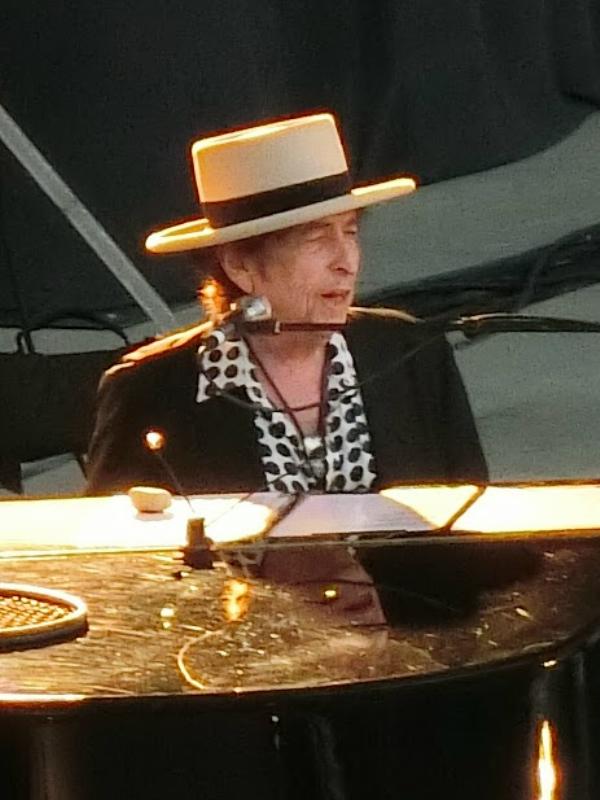 All Or Nothing At All would display Dylan's ole blue eyes, and led into Long And Wasted Years from Tempest. Autumn Years would wind up the Sinatra catalog for the evening. Blowin' In The Wind would call to mind the warnings that the nation was given in the 1960's, and the road that we actually walked to wind up in the morass of war, debt, and fear that we are in today. If Kennedy felt that "a nation that is afraid to let a its people judge the truth and falsehood in an open market is a nation that is afraid of its people", we badly need to be blessed with leaders possessing faith and trust in the populace once again today. We need leaders who can replace lust and greed with a vision for deliverance and hope. The show closed with Love Sick, with the narrator "walking through streets that are dead".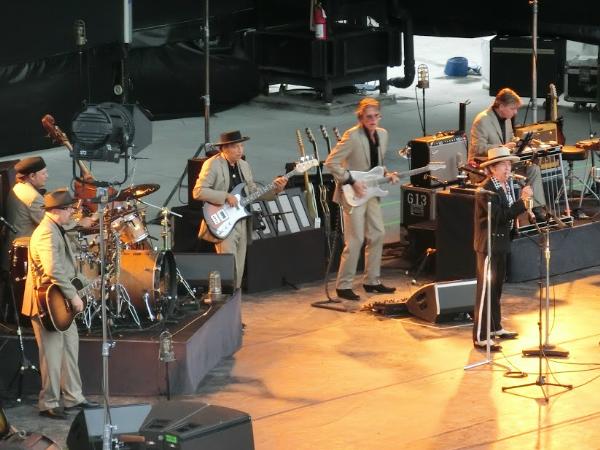 Dylan asks if he heard "someone tell a lie?" We've been bombarded by lies, from reasons for war, to roads to monumental national debt, to just about all things under the sun. Special effects make the fetid seem momentarily appetizing until nausea and reality set in as false images fade away.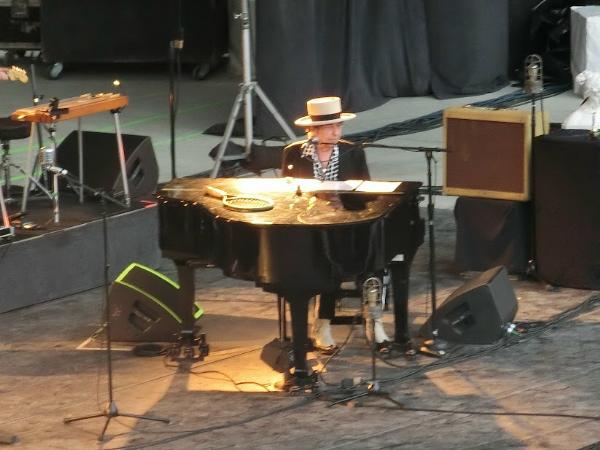 Seeing Mavis and Dylan at Forest Hills had those filling the seats seats pondering the climate from the last show at the venue in 1965 to these modern times. The horrible bloody wars and and human cruelties that the music had called us to try and avoid seem to have the same answers today, although the technology around us has grown exponentially often overwhelming the senses, the answers having been missed. How did it go so horribly wrong in the interim, is the unspoken question that unconsciously haunted some long time audience members? The answers seemed to be at hand, as the old road was rapidly aging.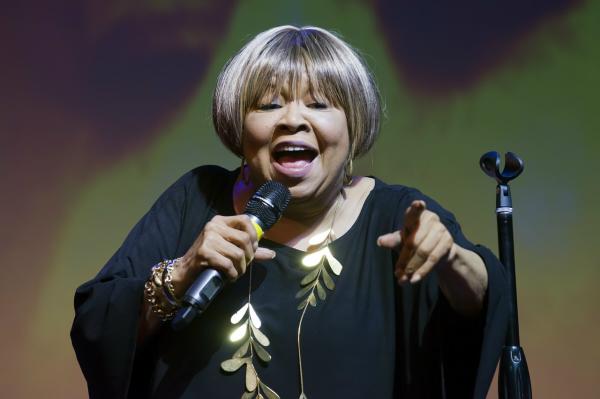 One glaring detour on the road to national wholeness were the bullets that took out King and the brothers Kennedy.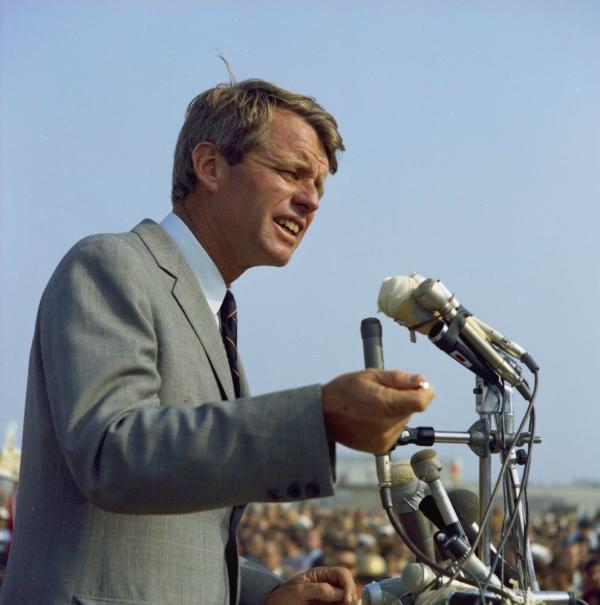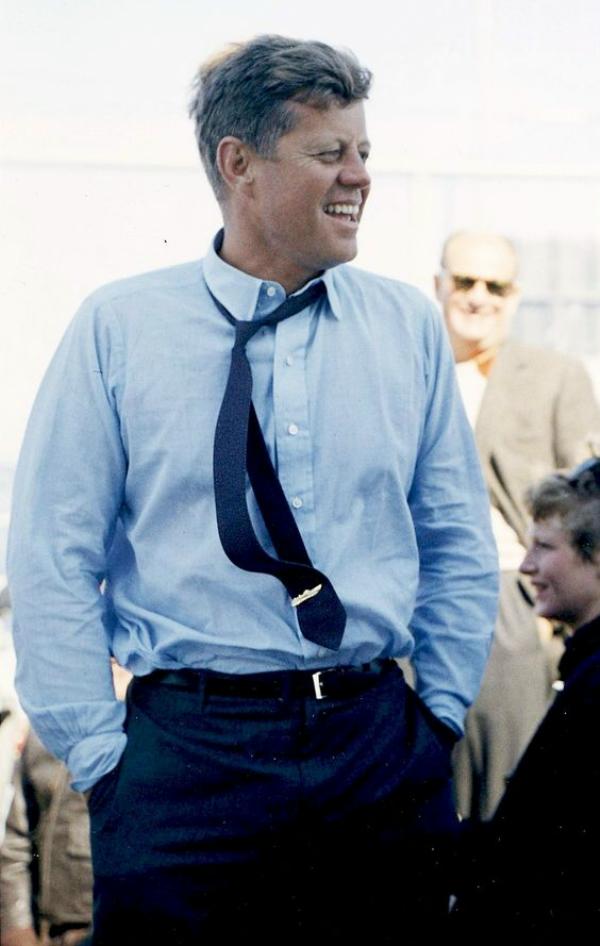 "Even in our sleep, pain which cannot forget falls drop by drop upon the heart until, in our own despair against our will, comes wisdom through the awful grace of God."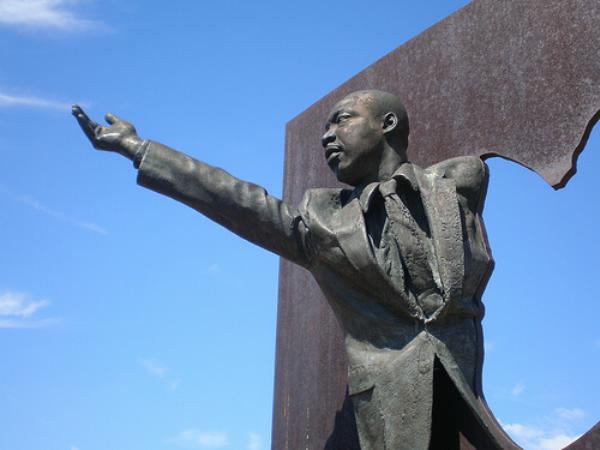 -Aeschylus, as quoted by Bobby Kennedy, announcing the death of Rev. Martin Luther King. The two were murdered less than five weeks apart from one another, as the Vietnam War raged on.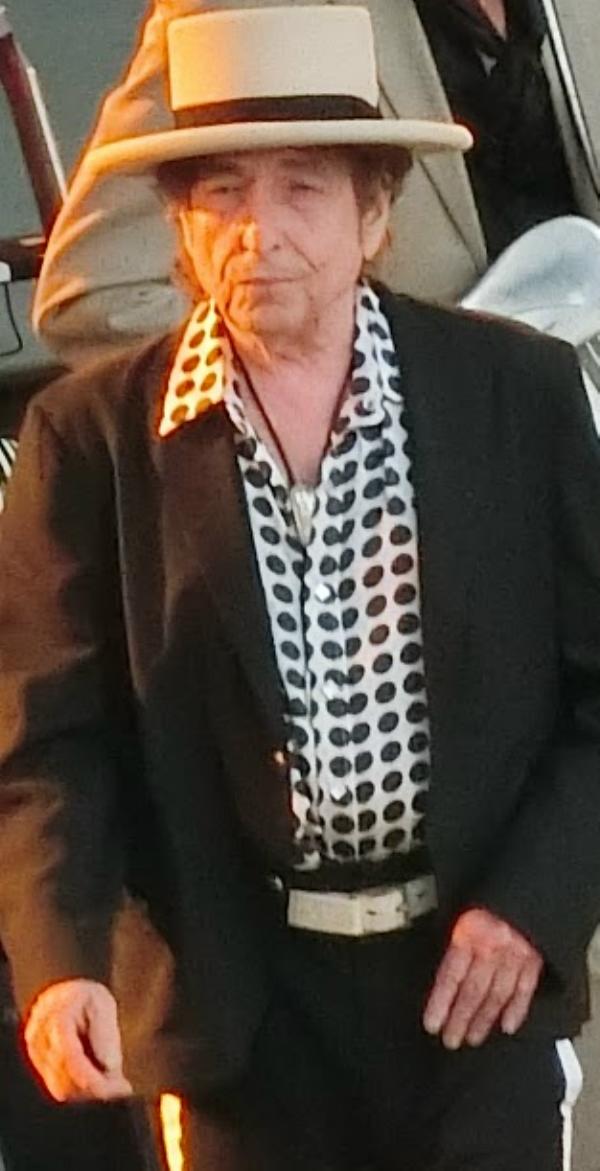 *******
---

ANITTA

MC Melody-Singer
McMelody-Artist



Debbie Scott's Interview with Gary Revel



Gary answered questions about his music and his investigation of the assassination of Martin Luther King Jr. Questions from Debbie, Bob Wilson and other listeners took the interview from the assassinations of MLK, JFK, and RFK and into the subject of The Mafia, MK Ultra and the attempted assassination of President Ronald Reagan and more. The 17 track play list includes many of his songs including They Slew The Dreamer.

Bike Grip Board

Copyright 2016 by Gary Revel
A Gary Revel Entertainment News Web Site
All Rights Reserved